Look at my sexy new ride!!

When Nate and I moved to the Boise area and I started looking for work, we quickly realized that we wouldn't be able to get along with just one car as we had in the past. We considered getting a second car, but that was unrealistic. We found our solution on two wheels instead of four!
Meet my '07 Roketa MS Aruba 150 CC Scooter!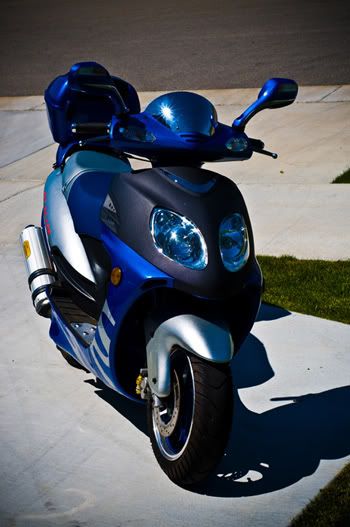 It caps at about 55-60 mph but it gets 70-80 miles to the gallon. This is the PERFECT summer-mobile. Nate doesn't like to ride it as much as I do. He claims the helmet messes up his hair. Ha! What does he know about messed up hair?
Don't worry ALL! Unless I'm within a 2 mile radius of my house… I always wear a helmet. I have some videos, but the internet has been acting strangely. I'll post those when I can!