Some people call it: 'Simple minds, simple pleasures.' When I think of Nate, I call it: 'Finding the joy in the little things.' One morning a couple months ago, I got the urge to do just that. I took Nate's camera early in the morning and took a drive around the neighborhood down to the garden and the river that runs by it. These are some things that I found that made me smile, that put the joy into the simplicity of my life.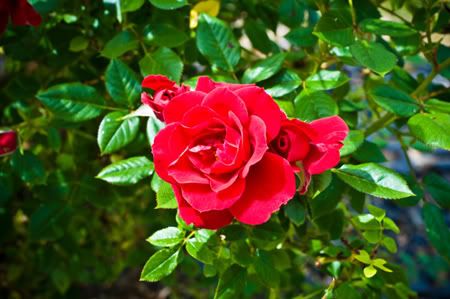 The First Rose of the Spring
We have three bushes in our front yard and soon they were full!
Parsley, Oregano and Basil – Yay for free organic spices!
Antigue Classics in the Country
Ducky Day Care- 21 ducklings
The FIRST evidences of life in our garden!! You can see that tomato is barely bigger than my wedding ring. More to come on that story!
Hugs from "Benny-BenBen-BooBear", my nephew!
Baby Juls' Feet
I'll have to add: you find a quarter on the street, you make all green lights to work, you go way under on your cell phone minutes, you receive an important phone call in an area where you don't have any service, your cooking of a new dish or cake comes out WAY better than expected, you see a bald eagle, you lose weight without knowing it, you remember to take out the trash just in time, and you feel the adoration of some small child you are endeared to.
What tender mercies make YOU smile?