Most married couples can sympathesize with having an empty house at the beginning of their marriage. They'll understand the echo that happens in most rooms of their house. They'll understand having picnics for all meals or eating at their Grandmother's card table or sleeping on an air mattress in the living room. Piece by piece, Nate and I have been making our empty house a home. But the newest item has been something of a growing experience for me.
I found this table at a garage sale about 3 months ago. I bought it for $125. I was told that was a steal for a real maple table. I thought I could kind of jazz it up, refinish it, buy some cool chairs. You know, make it our own. Nate wasn't AS enthused as I was for this project. He didn't quite have the vision I did, but part of the reason I bought the table, was that at R.C. Willey, this style was his favorite and was what we were saving up to buy for $900, 4 chairs included.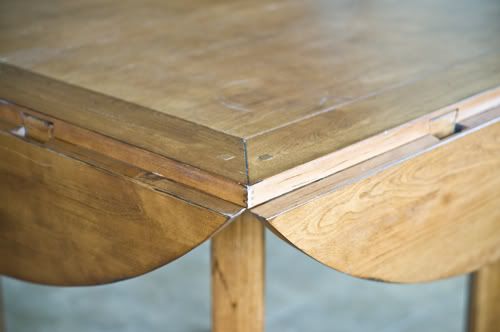 Things I love about it: the counter height, the drop-down leaves, the jig-saw puzzle pieces, the square AND circular shape, and the SIZE!
It is a 46 1/2 inch square and a 66 inch circle.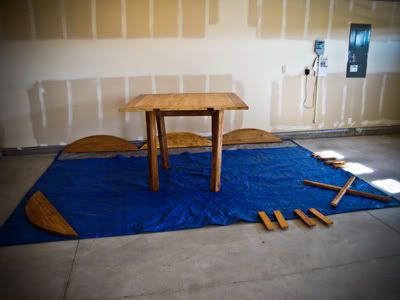 I researched for weeks. I didn't want to ruin the wood by making any mistakes, nor did I want to paint it, hearing that 'painting real wood is a cardinal sin' in the carpentry world. Originally, I went with a dark red mahogany stain. I had a deadline, with Nate's aunt and uncle coming to stay with us in ONE WEEK!
Stripping the wood was the hardest part. It took 3 days and multiple applications.
The DAY BEFORE they came, I bumped into a professional refinisher who told me [long story short] that I couldn't get the look I wanted with a stain. I changed my game plan, bought ALL new materials, and went to town on my table for the next 14 hours. Since the hardest part was already complete [stripping the wood],
I did some very light sanding, an application of wood conditioner, two coats of black paint, more sanding, two coats of sienna glaze and then 4 coats of varnish. What you get after all that is:
We got the chairs [4] and the stools [2] at a couple of different locations. They cost approximately $370. After all the materials, the table, stools and the chairs, I spent about $550. My neighor who also happens to be a carpenter estimated the post-refinishing value of the table alone at $450-500!! YAY!!
I used an antiguing technique called 'distressing' to get the edges to have that burnt look. The glaze I used serves two purposes: it gives the edges that orange color, but it also helps the table have some depth so it is not just a flat blue-black color.
FINALLY, we have a place to eat and a place to feed company and play games!! It feels great!!!
*
Special Thanks to: Todd for all the amazing advice and coaching, Mike at Dreamworks Furniture for saving my skin, Brother Marlin for the wood conditioner, Jake and Kate for the tarp and especially MANDY for inspiring me, motivating me and for being my 'mode of transportation' with this thing!