So…this is Nate. Now, I know I rarely [if ever, I think] post on this blog, but I'm making a special guest appearance to post about Luisa's SECOND and my first triathlon. She's amazing! I do have to apologize in advance, however, because this won't be quite as witty and clever as Luisa's posts are. Let me just start out by talking numbers so you can get an idea of how wimpy I am, and what a tough cookie my wife is:

Nate's Sprint Tri:
Swim: 500 Yards
Bike: 12.4 Miles
Run: 3.1 Miles

Luisa's Olympic Tri:
Swim: 1 Mile
Bike: 24.9 Miles
Run: 6.2 Miles

As you can see, Luisa's Tri was twice as long as mine in almost everything except for the swim, which was THREE times longer. Here are some pictures from the day.
Here's Luisa and I before our swim…feeling nervous!!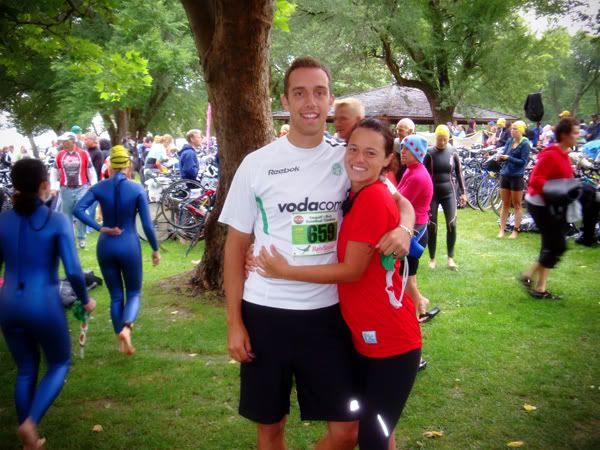 Here's Luisa and Chelsea, our friend from Church who also did the Olympic Tri with Luisa.
Here I am stretching…..or something.
Luisa's last leg of the run.
Finish!!
The power team of girls that did the Triathlon after finishing!
[Luisa's Inspirational Friends- Chelsea and Blu!]
The weather was much nicer than Luisa's last tri, which was about 104 degrees. The morning was quite cold and the water was freezing, but other than that, it was ideal for a triathlon. Overall, it was an amazing experience. I honestly think I had a smile on my face for most of the race because it was just so wonderful having everyone there cheering you on. Even people as they passed you or as you passed them, would say, "Way to go! Keep it going! You're doing great!!!" Although, I do have to admit, while doing the Triathlon in my mind I was saying: "WHYYYY?!?!?! What on earth would provoke me to do this!?!?! I'm never doing this again!" and honestly, the minute after I crossed the finish line, the first thing I thought was, "Let's do that again!" It was a fabulous day! Hopefully, there will be many more events to come and, of course, we'll post about them all!
…..
P.S. Luisa Here. I just needed to add a side comment to Nate's narrative.
It was a really tough experience. I don't think I've ever challenged myself physically as I did that day. It paid off though! Apparently, I burned about 2300-2500 calories!! Aside from that, I feel like a tribute is in order for a person I "met" during this event. Right off, during the swim I was one of the slower of the Olympic women. I found a person who I thought I could match in speed and promised myself to stick with that person for the rest of the swim. All I could see was #359 on her swim cap. I passed her about half way through the swim, but when I was in the transition area preparing for my bike, I saw her and she was actually an older lady. I headed off on my bike, and about half way through I peeked back and saw her on my tail. We kind of passed eachother back and forth for a couple miles, but eventually, she over took me and I saw written on the back of her leg [where they write our age, number and the event we are doing, whether it be the Sprint, the Olympic or the Aquabike], and Mrs. 359 was 69 years old!!! I couldn't believe it. I was competing for endurance, fitness, strength and speed with a woman who could be my grandmother.
*Dear #359: You are amazing. I hope someday I can write '69′ on the back of my left calf and know that I have lived as fully as you.

My admiration is yours.

Sincerely, #203