LONG STORY SHORT: Nate got a photography gig from a company taking their top sales reps to Costa Rica. Since my Dad is from there and since its the most beautiful place on earth, we quickly worked a plane ticket for me into our budget. I joined Nate in the very Northwestern corner of the country, near the Nicaraguan border [the Golf of Papagayo in the Region of Guanacaste] on the most beautiful resort I have ever been to with the best service I have ever received; there were about 3-4 employees per guest. The sitcom 'Cheers' comes to mind, because EVERYONE knew our names and our 'drink' of choice: virgin pina coladas or fruit smoothies of mango and passionfruit. We had a beautiful room with a balcony looking over the ocean; monkies, parrots, iguanas and geckos were everywhere. Here are some howler monkies that we saw close to our room; that little one was harrasing the adults and didn't get away quick enough. Their howls were scary at night, sounding like a cross between a dragon roar and a wolf howl.
The ocean water was so warm and clean. We swam every day, obviously. There were hermit crabs EVERYWHERE, sometimes it looked like the entire beach was shifting and moving!! You couldn't take a step without squishing a few into the sand. Nate could attest to how much I loved them; they made me squeal and giggle like a little girl.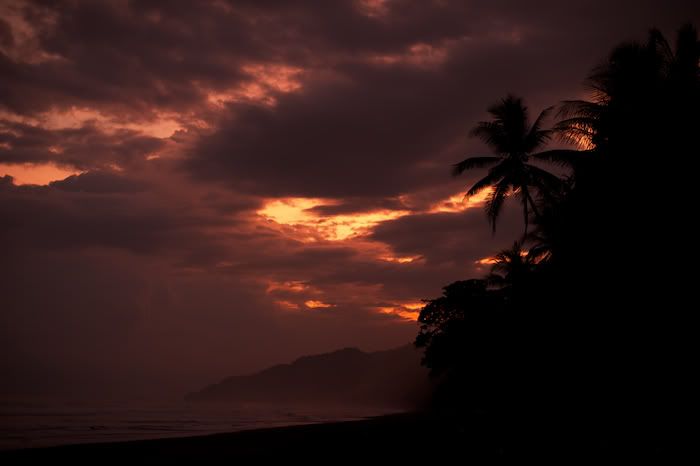 Nate's employer was incredibly welcoming and warm to me… they even included Nate on their deep-sea fishing trip [where he caught a huge red snapper, which they cooked and served to us as fish tacos and ceviche]. They included me in their day at the spa with a 75 min facial [I'd NEVER had one!], and they brought BOTH of us on their zipline tour. On the ropes, we got up to speeds of 45 mph. The workers there even taught me how to go upside down!!
After our stay at the resort, we were torn between going to the Caribbean side of the country to see a park called Tortuguero in the Northeast OR driving the entire length of the country on the West coast down to the Osa Peninsula and the National Rainforest Corcovado. After interviewing nearly every single local we could find, we decided to head south. We knew the drive would be long… about 9 hours… but this is what we chose since Corcovado is considered the 'hidden pearl of Costa Rica' by National Geographic AND ALSO because this would give us a chance to see more of the country. Here is the SUV we rented for the journey…
Before turning south though, we headed due East to La Fortuna where Arenal is the last active volcano. Although lava can normally be seen nearly every other day, we were a little nervous because due to heavy cloud cover nothing had been seen for about 2 weeks. However, this is the view that graced our eyes as we pulled into La Fortuna…
Thanks to some covert directions, we found some thermal waterfalls and hot-springs at the base of the volcano. When we found them our first night there, it was MAGICAL. Some locals had lit candles all over the place. It was right in the middle of the jungle. The water felt like silk and the FIREFLIES were like fairies. They don't flash like they do here in the States; they stay lit for 15-20 seconds at a time as they zoom around. Beautiful! We went back early the next morning and took these pictures…
That night before, after 'hot-tubbing' in the jungle, we headed back to the little bungalow where we were staying, showered up, and decided to get some dinner. Walking down a path to a nearby restaurant, Nate saw lava!!!!
We set up Nate's tripod and ordered our food, and enjoy the sights from the patio.
Early the next morning we headed out, and while driving through some beautiful farmland, we saw someone taking a picture over the side of the bridge. We decided to follow suit and low and behold….
These bridges didn't make us feel any better.
After quite the long drive, we arrived in Puerto Jimenez and crashed. ANOTHER long story short, we found out it was incredibly hard to get inside to the Rainforest, we needed passes and fees to be paid in a bunch of different locations. We had to make reservations for meals while we were inside the park. It took us an entire day to get it all worked out and as the sun was setting, we headed to La Leona where we would stay before we could enter the park…
The next morning we went for a hike up a nearby river and spotted these bespectacled owls. Ever the inquisitive child, Nate decided he wanted to wake them up, and so after throwing a few rocks at them, I decided to hike up the hill and wiggle the tree next to them. They awoke and spun their heads around a few times and then flew away. On my way back down, I started slipping down the hill and all these leaves collected around my feet and all of a sudden, I felt this bite on my ankle!!! Inside, I freaked out… on the outside, I said: 'Ouch." We took a look at my ankle, and there were two puncture wounds about 1/2″ apart. Swelling soon followed…. again, LONG STORY SHORT, I'm fine!!
Nate found this poison dart frog… we found out later that if the poison secreted by this animal got into either your eyes or your mouth, you would die within 2-4 hours. Ahhh!!
CORCOVADO RAINFOREST FINALLY!!
This butterfly was our
good luck charm! She was BRIGHT blue on the inside and followed us nearly the whole way
.
This tapier let us get SO CLOSE!! We could have followed him all day long!
Capuchin Monkey – like Night At The Museum
Where we camped in Sirena, the base camp in the middle of the jungle…
Our Hike Back- Nate's Herbal Essence Commercial
This was what we came upon as we were ending our hike…
We had to pick up our luggage, get it to the donkey cart, hike another mile, and then drive our car 2 hours to get to the nearest civilization to get a hotel. VERY quickly we were walking through torrential rainfall and lightning on the beach [NOT a good idea]. When we got our car, we ran into some guys who were heading in the same direction we were, and we ALL started booking it. We didn't get far before the road became impassable with SUPER flooded rivers and enormous trees knocked down into the road. To say the least, it was a very crazy night. We had some people come and cut trees apart with machetes, and we watched as a friend of ours was nearly carried away down a flooded river before his tires caught. After watching THAT, we decided we weren't going to cross, but we decided we couldn't stay where we were either. A Costa Rican boy offered to drive our car across the river and we accepted for lack of better options. He started edging into the water and RIGHT when we reach the middle, WE SINK and suddenly the headlights are under water and water is coming up over our hood!!! I was screaming, but the kid gunned it and got us out of the river fast. Despite the danger, we slept in the car that night… IN the jungle since later on all the rivers were just too deep to pass. Shown below are two of the guys that took care of us that night. After getting stuck in mud pits, fording rivers, sharing limited food and moving tree, after tree, after tree out of the road, we felt like these guys were family.
Drive Up to San Jose – Beautiful Farm Land and Bunny Cows
Nate wasn't as fond of the idea…
They couldn't get over how tall he was!!
Nate got some of the most beautiful pictures of the most beautiful people…
This was the opportunity of a life time, and I was SO happy to share it with Nate. I am so proud of him and grateful for him. What an amazing adventure.
Tico/a- a person of Costa Rican descent
Granizado- a special dessert found mostly in Puntarenas made of shaved ice, cherry syrup, vanilla ice cream, powdered milk and sweetened condensed milk!
Gallo Pinto- the most common breakfast made out of 'last nights dinners' rice and beans served with an egg or sausage and 'Salsa Lizano'
Salsa Lizano- Native to Costa Rica, this sauce is spicy and sort of sweet. LOVE IT!
Pura Vida- A common phrase that Ticos use for nearly everything! How's it going? = Pura Vida? … It's going great! = Pura Vida! … Have a great day! = Pura Vida!
Literally translated it means….