It may not be an amusement park. There aren't any rollercoasters and Mickey Mouse does not frequent. Even though my parents were kind enough and sacrificed enough to assure their children DID have the opportunity to see Disney World, the place where MY childhood dreams came true was NOT in Cali and most definitely not in FL. It was in Vergennes, Vermont.
In a 120 year old mansion called Thendara, my family would spend a week together in the summer every year. My father worked for the family who owned it and they would leave it at our disposal. Complete with ALL antique furniture, servants quarters, a library, fireplaces in every room, a haunted basement and a bat filled attic, this was a place fit for the wild imagination of children. Aside from the house itself, the surrounding area has SO much to offer: BLUEBERRY picking, Dakin Farms [specialized cheeses and meats, but my favorite part was their bee farm, honey sticks, and rock candy], the Teddy Bear Factory, Ben & Jerry's Factory and the von Trapp Family Lodge.
It JUST so happened that the stars aligned and Nate AND my brother AND his fiance were all going to be back East AT THE SAME TIME! It didn't take me long to get a ticket myself; we made plans to make a trip up to Vermont and we invited much of my extended family for the event. I don't really have any images of Thendara itself, but it's the people there that make it home and even if I didn't get to go 'HOME' while I was back East, I still felt AT home with my family surrounding me and being in a place so beautiful and so full of memories.
Without further ado, this is My Family: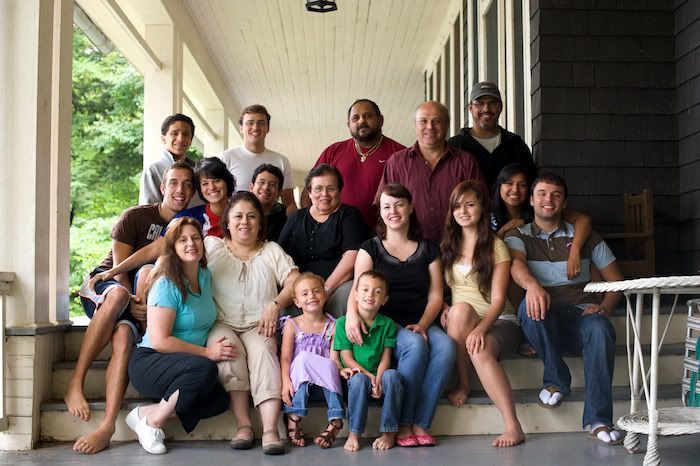 From top left to right: Cousin Sebastian, Brother Alex, Uncle Alex, DADIO, Uncle Luis, Nate & Me, Cousin Javier, Abuela, Sister Shannon, Sister Melanie, Soon-To-Be Sister Danella, Brother Andrew, MOM, Aunt Lecy, Niece Brooke, Nephew Cameron… I LOVE THIS PICURE.
But this picture below, I feel is a more accurate depiction of the Morales Family:
And my dear sweet Nate, although he was supposed to be on vacation like the rest of us, took my baby sisters Senior pictures. Hah. Not so 'baby' anymore. I love this little girl and I can't wait to watch her life. She is radiant. OFTEN I say to Nate that one of my biggest regrets is having missed so much of her life and the life of my little brother, Alex. I moved away to college 8 years ago [
Eck... she's not the only one getting old]
and haven't really lived at home much since. : (
AND he took these adorable pictures of my big sister Shannon and her little kidlets. I love those two little ones. They are SO bright and intelligent and vivacious. Nate and I caught two beautiful bright red and orange salamanders for them. Brooke's died within the hour. Too much 'lovin'.
Of all the pictures that Nate took this trip, I think that this one has to be my favorite. I have always felt a deep love for my Grandmother, my Dad's mom. I was named after her mother and that might be part of the reason I feel so attached to her. She is strong and vibrant and beautiful and intelligent. She develops her talents and her passions and she LOVES to learn. She sews, paints, cooks, and embroiders. But MOST importantly, she is a survivor and SUCH an example to me.
More Things I Love About Thendara:
~There is a huge wrap around porch with lawn chairs to enjoy the view of the lake with a cup of hot chocolate or iced lemonade [depending on the weather] and a good book [a GOOD book is at the top of EVERY Thendara packing list].
~There are hammocks, rope swings, a volleyball net and a large field for croquet and other sports.
~There is a huge 'dinner bell' that is rung at each meal to get everyone to gather.
~Every day ends with games or reading books around the fireplace in the family room. One by one we all drift off to sleep and are sent to bed by the last surviving readers.
~There always seemed to be a puzzle that everyone could work on, one piece at a time in passing.
~The attic is full of bats and so there aren't very many bugs [occasionally, one gets loose in the house. As kids, we LOVED that!!]
~You can sleep in as long as you want… and you can take as many naps as you want.
~The TV was off-limits… ALMOST 100%.
~Thendara rests right on the shores of Lake Champlain and we would spend whole days swimming in the water, taking boats over to the New York side or collecting buckets full of frogs.
~Every room has its own assigned letter. My favorite room was the 'G' room for Granny. It's the only bedroom downstairs and was dark and quiet and cool. But my second favorite was the 'A' room because it's theme was 'ships & sailing', complete with portholes, anchors and model ships.
~Thendara is notorious for 'feeding'. My family NEVER eats more, even at holidays, than they do when we visit VT. The kitchen is HUGE so it can fit everyone in there for dinner prep and cleanup, and most evenings we take our dinner outside onto the porch.
~Whenever someone leaves Thendara, everyone remaining gathers outside the back door and waves until the car is out of sight. The 'departee' has to honk. Its called the "Thendara Goodbye."