Never in my life, would I ever have imagined that yesterday, on July 18th, I was going to run a Triathlon. I've never been an athlete. I've never really been 'in shape.' I didn't even like running until this summer. I always used 'bad knees' as an excuse; come to find out, that ailment is pretty easy to cure. You just run through it!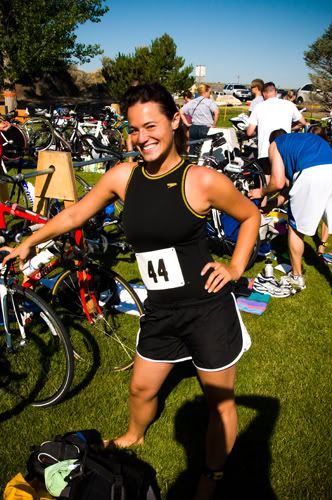 At the start of my race! Looking pretty chipper, right? Not for long.
The Trek road bike I rented for the day!
My inspiration: Chelsea!! SHE was worried about this Tri, but she ran the San Diego Marathon last month, so she was definitely way ahead of me on the 'Prepared Spectrum.' When I first started training I could always count on her to be as excited for me as I was for myself at different milestones. She was an amazing cheerleader, even when I'd come to her and say: 'GUESS WHAT! I RAN 2 MILES TODAY!' when that same day she had run 13!
I was warned, but NOTHING can prepare you for the 'stampede', very similar to the one in the movie Jumanji. I thought I would be comfortable in the water and very quickly discovered that I was out of my league when a gentleman actually SWAM OVER ME. A little unexpected.
[I'm the blue dome in the middle].
After my swim, I ran back to the transition area, washed off my feet, put on my helmet, shorts, socks, shoes, Ipod and booked it for the road. Here I am making sure my water bottles are ready for the trip. This was one of the hardest parts of the WHOLE TRI. We climbed out of the canyon on a very steep one mile hill, cutting back and forth on the switchback roads. I just put the bike in the lowest gear and pedaled my guts out.
During this part of the race, I ran into an unexpected obstacle. I rode through some of the most beautiful country side EVER! There were vibrant greens in the rolling hills of alfalfa and the glowing gold of wheat. Farms, though, sometimes equal trouble. A HUGE tractor pulled out in front of me, towing a load of fresh manure. Fantastic. Not only was the smell overwhelming, but I actually had to dodge the cow pies. There was hay and debris in the wind, and I even got some in my eye. Great. Cow poo in my eye. I didn't think I would need my goggles for this part of the event.
Apart from the beginning of the bike, the run was the overall hardest part of the entire event. The start/finish and ALL the transitions were in the same place. When I came back from my bike, I ran around the lake and on the opposite side, HIKED up this trail and over boulders that led me over ancient bridges and a crickety old stair case, which we ran up to come out of the canyon. When we reached the top, relief was NOT in sight. It was desert, with heat waves coming up off the pavement and an oasis in the distance. I did all my training in the early morning, and was NOT accustomed to having to run in the mid-afternoon heat.
Coming back from my run!
Crossing the finish line!
At that point, I wanted the camera out of my face, and I just wanted Nate to hold me.

A little light-headed….
Victory!! WE DID IT!!
Nate is VERY proud of this picture.
Besides watermelon and water, nothing sounded better than a Soft-Serve Ice Cream from Dairy Queen.
Well actually, add to that a WHOLE DAY with my husband, a cold shower, soft PJ's and the new Harry Potter Movie!
It was the best day ever….
This was a Sprint Triathlon, but a longer one at that. Normally, they are a 500 yd. swim, a 14 mile bike and 5K, or 3 mile run. This one was a 1/2 mile swim, a 17.1 mile bike, and a 5.25 mile run.

Special Numbers: 13, 2, 44, 3, 104, 47, 16, 4

13

= the number of roadkill I saw during my bike

2

= the number of turkey vultures circling me during my run

3

= the number of people I passed on the bike

104

= the temperature that day

47

= after weeks of training, my resting heart rate

16

=the number of people who didn't finish the race

4

= what I placed in my age group!!!