Often times I wonder if God has His work cut out for Himself, considering that roughly, Heaven will be three times as beautiful as the Earth we live on. Based on what I can see, He has pretty fantastic taste and personally, I think my heaven is going to look a little like McCall.
In honor of a visit from Mom and Dad, we made a trip up north to Cascade, Donnelly and McCall. We got a cabin named Coldsmoke Chalet for a few nights on the Tamarack ski resort! It was beyond schnazzy.
We kept our days pretty action packed, trying to take advantage of every moment we had together! We celebrated TWO birthdays! Happy Birthday Gracie and MOM!!! We also went out to the piers in downtown McCall… tried out a local burger place… went hot tubing… had a little BBQ… played games… went 4-wheeling [We were pretty concerned about offending the local Democrats with the off roading of our 4-wheelers, but we tried not to be too destructive to the wildlife habitat].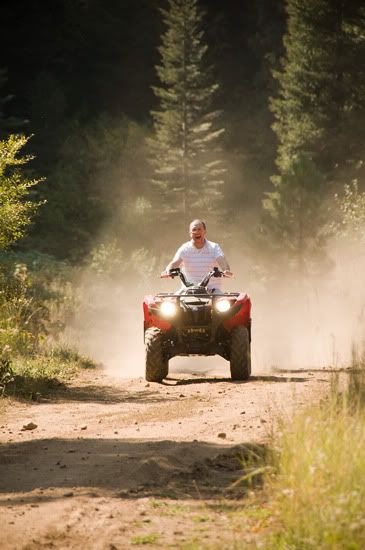 We went mountain biking [and Nate took quite a spill... thank goodness there were no major injuries, though].
There was MUCH photography going on during the trip. Mom and Nate were in heaven with all the beautiful scenery… and people. Just kidding. I love that Nate isn't scared to get down and dirty for the perfect shot.
We went exploring around the lakes in McCall.
Have you seen Nate's amazing tree stump pictures on his blog?
We did our research and found a natural hot spring!
The cool thing about these springs was that we could control the temperature. There were a few little pipes that we could use to let in cool water if it got too hot. We rotated positions, because some spots were boiling hot, others were cool and they ALL felt fantastic. The water made our skin feel silky.
And of course, there were some nature walks and hikes. Nate and I went 4-wheeling as far as we could up the mountain side and then we hiked farther because we could hear water. We found this beautiful little waterfall and boulders covered in moss.
The deer weren't very intimidated by us.
Nate took this picture of me on a cute highway in Cascade.
When we got back to Star, Nate and I decided to make a traditional African meal that he had quite often on his mission. It is called Pap [pronounced Pop], and it is white corn meal mush. It has no flavor, kind of like plain cream of wheat and you eat it with your hands. We had Seven Colors [which is usually reserved for special occassions in Africa and consists of vegetables, sauces, and meat to have in addition to your Pap]. Eating with my hands made me feel like such a kid again!!
Having Mom and Dad with us is always an adventure and we LOVE being with them. They bring such happiness and excitement. Their grandchildren adore them. I consider them one of the greatest blessings that my marriage has brought to my life. Thank you Mom and Dad for an AMAZING weekend! We love you and we miss you already.