For reasons STILL unbeknownst to me, Nate and I have been toying with the idea of me becoming his 'back-up photographer' or 'second shooter' [sounds like a sniper term in a Bourne movie]. It has been a very intimidating experience, considering the fact that, oh I don't know… I'M NOT A PHOTOGRAPHER!! But Nate and I shot this one particular wedding, Shannon & James', and that entire experience totally opened my mind to the possibilities. During the day, I was 'fretting', feeling the pressure of wanting to be an ASSET to Nate, wondering if I was getting ANY photos that he would be able to use. As I was juggling lenses & memory cards, there was a constant stream of mental commands that I was giving myself: 'IN FOCUS!', 'TOO LIGHT!', 'TOO DARK!', 'COMPOSE!'…. and 'FAST! BEFORE YOU MISS ANYTHING!'.
This day and this wedding had SO much going for it. A radiant couple, fabulous lighting, an UNBELIEVABLE location… and of course, NATE routing me on…. silently. Here are a few of my shots: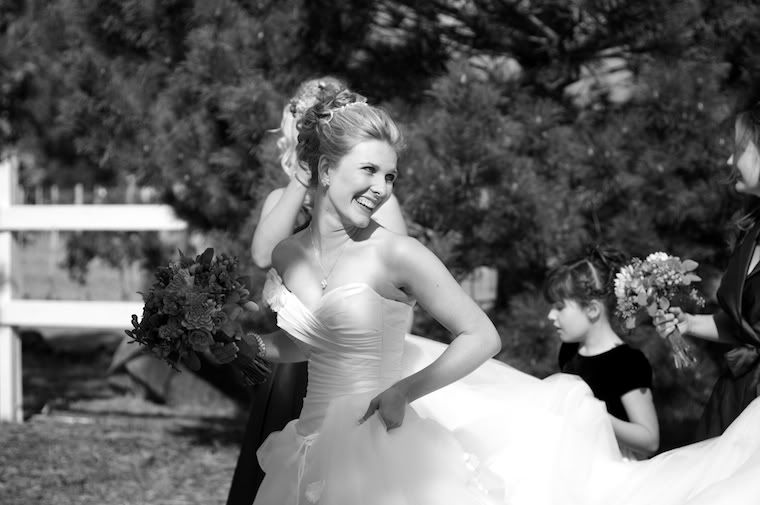 At first it was all just a temporary fix, a "fly-by-the-seat-of-your-pants" experiment. But I have LOVED working with Nate. He is patient and forgiving, but he is also a professional and he pushes me. He made me feel like a MILLION bucks. Still, we don't know where we are going to go with this. We have a lot going on in our little family, but I LOVE that Nate loves my work. I hope that whether or not shooting with him is permanent, that he will continue to be proud of the little apprentice that he has created out of me. I have no aspirations to become a true photographer… but, for now, I just like being with Nate.
He's really cute, ya know?
*P.S. Here are the links for the other posts that Nate has done about this particular wedding.
Post
&
Slideshow